Manziel "excited for the opportunity" to make his first CFL start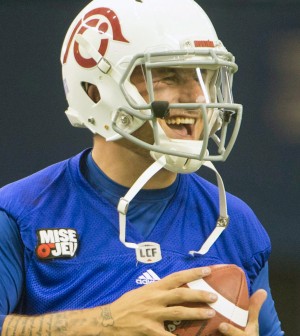 It's Manziel mania in Montreal as recently acquired QB Johnny Manziel was announced as the Alouettes' starting quarterback for their game against the Hamilton Ticats on Friday.
It's significant for two reasons: 1) because CFL and football fans across North America finally get to see Manziel in action 2) It will be the first time he starts in a pro football regular season game since December 27, 2015, when he was playing with the NFL's Cleveland Browns.
"It's good to be back in here. I felt like the thing I've been missing, even over the course of this year and a couple years, is reps. And as you guys have seen the last couple days, a chance to get with the 1s and get some reps is what I feel like I really need and what I've talked to a lot of people about." said Manziel.
"I feel very blessed to be in this position, to be back in a situation where I'm starting again. It's good. It's a quick turnaround. But at the same time, I'm excited for the opportunity."
Manziel last played in the preseason while with the Hamilton Tigercats, where he completed nine of 12 passes for 80 yards, and tossed his first CFL touchdown pass against the Toronto Argonauts in June.