Manny Pacquiao will fight Jessie Vargas on November 5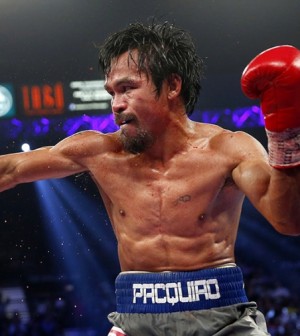 Well it's official.
Manny Pacquiao confirmed on Wednesday that his comeback fight will be against current WBO welterweight champion Jessie Vargas on November 5th at the Thomas & Mack Center in Las Vegas.
"Yes, the fight is on. I have agreed to a Nov. 5 fight with reigning WBO welterweight champion Jessie Vargas." said Pacquiao.
"Boxing is my passion. I miss what I'd been doing inside the gym and atop the ring."
The 37-year old Filipino native won what was supposed to be his final fight via unanimous decision victory against Timothy Bradley Jr. on April 9, but has suddenly had a change of heart and decided to return to boxing. He is currently serving as Senator of the Philippines, and made sure this fight didn't interfere with his senatorial responsibilities and duties.
In 66 career fights, Pacquiao has posted an impressive 58-6-2 record. 66% (38 out of 58) of his victories have been knockouts.
His 27-year old opponent Jessie Vargas has posted a record of 27 wins and 1 loss since making his professional boxing debut in September 2008. His only loss came against Pacquaio's previous opponent Bradley Jr on June 27, 2015. He recovered from that disappointing loss and followed up with an impressive ninth round TKO victory against Sadam Ali on March 5th to capture the vacant welterweight title.