Report: Manny Pacquiao will fight again on November 5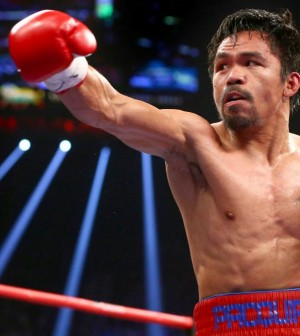 Less than a week after coming out of retirement, sources say that Manny Pacquiao's comeback fight will involve him headlining a PPV event in Las Vegas on November 5. The venue and opponent have yet to be named.
The 37-year old Filipino native won what was supposed to be his final fight via unanimous decision victory against Timothy Bradley Jr. on April 9, but has suddenly had a change of heart. He is currently serving as Senator of the Philippines, and plans to schedule his next fight at a time that will not interfere with his senatorial responsibilities and duties.
"Manny wants to come back. The problem is he can only come back if it doesn't interfere with his senate duties," said boxing promoter Bob Arum las week.
"We had penciled him in for Oct. 15 at Mandalay Bay but we were informed that is no longer possible because he has to spend that week leading up to Oct. 15 formulating the budget in the senate and doing the votes."
In 66 career fights, Pacquiao has posted an impressive 58-6-2 record. 66% (38 out of 58) of his victories have been knockouts.