Magic Johnson hoping to become important decision maker with Lakers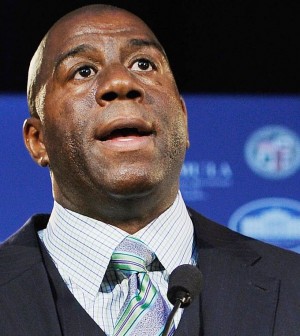 When the Los Angeles Lakers hired Magic Johnson as an advisor last week, many wondered how much power and influence he would have in the front office.During an interview with USA Today on Thursday, he explained just that.
For now, he is simply serving as a basketball mind that important figureheads such as owner Jeannie Buss or GM Mitch Kupchak can use when they are in need of advice. However, Magic is aspiring to be much more than that down the road. He eventually wants to play a major role in player personnel and have the power to make important decisions for the franchise.
"Working to call the shots, because it only works that way," said Johnson about his goals with the Lakers.
"Right now I'm advising. I get that. But at the end of the day, then we all got to come together and somebody's got to say, 'I'm making the final call,' all right? And who's that going to be?"
"So, we'll see what happens."
Regardless of his future with the franchise, the Lakers have a lot of work to do if they want to get back to where they were during the glory days of the early and late 2000′s.
They currently sit 2nd last in the Western Conference with a dismal 18-37 record, and barring a miracle, are will miss the playoffs for the fourth consecutive season when all is said and done.