Magic Johnson abruptly steps down as Lakers' team president: 'I'm gonna go back to that beautiful life'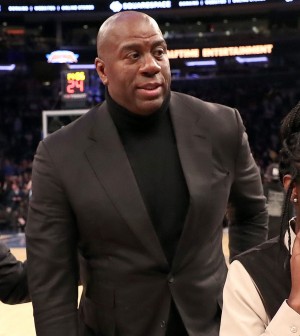 Well nobody saw this one coming.
Los Angeles Lakers president Magic Johnson announced in an impromptu 40-minute news conference that he is stepping down from his position with the franchise.
The 59-year old, who admitted he had yet to tell Lakers owner Jeanie Buss about his decision, realized that the job isn't for him and would be happier going back to the life he used to live.
"I like to be free. I've got a great life… what am I doing? I've got a beautiful life. I'm gonna go back to that beautiful life. I'm looking forward to it. Somebody is going to have to tell my boss, because I know she's going to be sick. But I knew I couldn't face her face-to-face and tell her." said Johnson.
He also alluded to the difficulty surrounding the job security of head coach Luke Walton as factoring into his decision.
"(On Wednesday) I would have to affect somebody's livelihood and their life," added Johnson.
"And I thought about it and I said, 'That's not fun for me. That's not who I am.' And then I don't want to put her in the middle of us, even though she said, 'Hey, you can do what you want to do.' I know she has great love for him and great love for me."
Johnson had initially replaced Jeanie's brother Jim Buss as Lakers' president of basketball operations in February 2017. Aside from signing LeBron James, his tenure was considered wildly unsuccessful. His time will be remembered for questionable trades and free agent signings, and the end of LeBron James' NBA Finals and playoffs streaks.