Lundqvist has faith in Rangers rebuild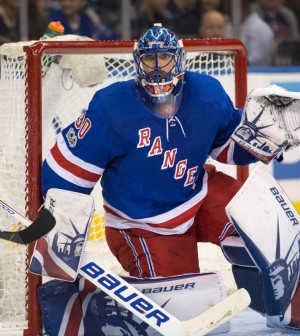 He may be reaching the twilight of his career, but New York Rangers goalie Henrik Lundqvist has enough confidence in the franchise to stick around during tough times.
Despite the fact the Rangers are in the first year of a rebuild, the 36-year old sees the light at the end of the tunnel. He believes this team can become a legitimate contender sooner rather than later.
"I see the potential," said Lundqvist about his teams chances moving forward.
"I want to believe that we can be a winning team. I really believe we can. I think we can make it to the  Playoffs. I think we have a good enough team."
Lundqvist, who was selected 205th overall in the 2005 NHL Draft, has spent his entire 14-year NHL career with the Rangers organization, and hopes it remains that way. During his tenure, he has posted a 433-280-84 regular season record, 63 shutouts, 2.37 goals against average, and a .919 save percentage in 816 career games.
He is also a four-time NHL All-Star, a Vezina Trophy winner (2012), and leads the franchise in games played by a goalie, shutouts and wins.