Lowry expresses his desire to remain with Raptors amid trade speculation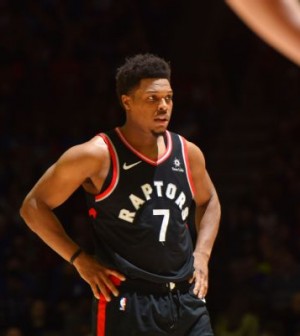 Kyle Lowry was the center of attention prior to Tuesday's win over the Philadelphia 76ers.
According to reports, the Raptors All-Star guard was involved in trade discussions that could have potentially sent him and teammate Jonas Valanciunas to the Memphis Grizzlies in exchange for Mike Conley and Marc Gasol. The talks went nowhere, and the deal fell flat shortly after.
With his name being thrown around in trade rumors, Lowry spoke with the media and emphasized his desire to remain with the Raptors organization.
"I personally want to be in Toronto. I never asked for a trade. My goal is to win a championship here, and that's what I want to do," said Lowry on Tuesday.
"I've heard all the rumors just like that. I'm sure if anything were to happen management would call me and talk to me and make me aware of anything that was going down."
The 32-year old has struggled with lingering back issues throughout the season, and has seen his productivity on the court drastically dip as a result. In 43 games, he has averaged just 14.3 points on 41% shooting (his lowest totals since his first season with the Raptors in 2012/13), but is putting up a career best 9.2 assists per game.
He responded to the rumours in a big way on Tuesday night, scoring 20 points to go along with six assists and a +13 point differential to lead the Raptors to a big 117-105 win against conference rival Philadelphia 76ers on the road.