Looking Back at LaMotta
By
Admin
on September 20, 2017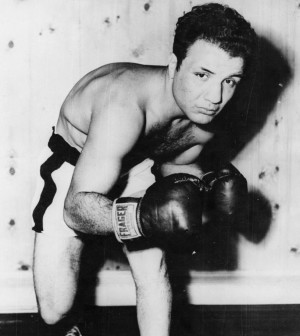 Today, American Professional boxer and former middleweight champion Jake LaMotta passed away at the age of 95. LaMotta reached great accomplishments as a boxer, though he was also involved in shady dealings, he was a stand-up comedian and his life was the basis for the story of the critically acclaimed Martin Scorsese film, Raging Bull.
Until today, Believed to be the oldest living boxing champion, LaMotta was known for his ability to survive intense beatdowns and relentlessly getting knocked down. The Valentines Day Massacre, for instance saw LaMotta fighting against Sugar Ray Robinson and refusing to go down despite major hits and injuries he took. Following the end of his career, LaMotta was forced to testify to the US Senate sub-committee that was looking into mob influence over the sport, consequently admitting to throwing his title for a substantial fee from the mafia. He acted in over fifteen films and was recently the subject of a documentary.
Though Jake LaMotta wasn't necessarily an American poster-boy for the sport of boxing, he was definitely a memorable individual. Being responsible for works like his Raging Bull memoir, and consequently the renowned 1980 film adaptation, any grievances to be had with LaMotta, his character and associations with the mafia, can be made up by the film based on his life in addition to his help with the US Senate case.