Lions' Nick Moore suffers ACL tear while celebrating touchdown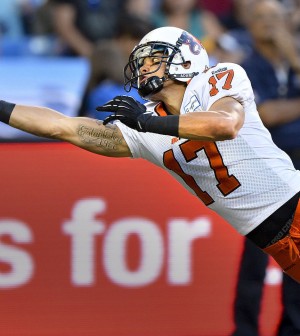 The first place B.C. Lions are going to have to finish the season without Nick Moore.
The team confirmed Wednesday that the 30-year old wide receiver suffered a torn ACL and will miss the remainder of the 2016 CFL season.
He sustained the injury during the Lions' 40-27 win over the Saskatchewan Roughriders on Saturday.
While celebrating a touchdown early in the fourth quarter, Moore jumped up to bump chests with teammate Loucheiz Purifoy and landed awkwardly on his left leg. The pressure caused him to buckle and immediately fall to the ground. Shortly after, he was seen limping off the field with the help of the Lions' training staff and did not return for the remainder of the game.
Moore had compiled 15 receptions for 205 yards, and one touchdown prior to the unfortunate injury. He will be replaced in the lineup by Geraldo Boldewijn.