Le'Veon Bell threatens to sit out a season or retire if franchise tagged again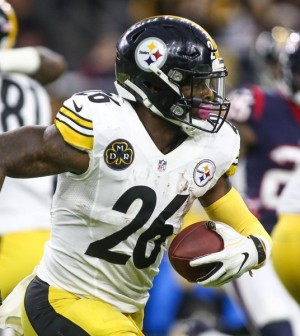 Le'Veon Bell isn't about to give the Pittsburgh Steelers a hometown discount this offseason.
Bell was straight forward when asked about his future in Steeltown, he will get paid what he feels he truly deserves and will not accept any hometown discount. If the team decides to franchise tag him for a second straight year, he will seriously consider either sitting out for the entire 2018 season or just outright retire.
"I hope it doesn't come to that, but I would definitely consider it," said Bell about the possibility of sitting out next season.
"They tag me again, it will be me [saying], 'OK, do I want to play on the tag or do I not want to play on the tag?' That's what it comes down to. If I was a free agent and they let me go, be a free agent, then yeah, I'm going to go explore free agency, test the market."
The 25-year old finished third in the NFL this season among running backs in rushing yards (1,291) and touchdowns (9) in 15 games.
Bell played on a $12.1 million franchise tag in 2017, and would see his salary increase to approximately $14.5 million if the Steelers franchise tagged him again for 2018.
"I know what I do and what I bring to the table. I'm not going out here getting the ball 400 times if I'm not getting what I feel I'm valued at."