Lehner unsure about free agency plans after incredible season with Islanders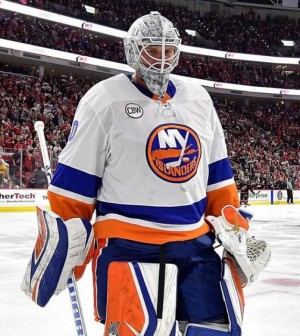 He may have shocked the hockey world this season with an incredible comeback year, but Robin Lehner is not ready to decide on his future just yet.
New York Islanders goalie Robin Lehner admits he had the time of his life in 2018/19, but isn't ready just yet to make any major commitments just yet.
"It's a little bit too much emotions right now," said Lehner about his free agency plans.
"I really like everyone here. This group is incredible, some of the best people I've been around. I've been in the League for a while now. We'll see what God has in store for me."
The 27-year-old, who signed a one-year deal with the Islanders last July, overcame alcoholism and mental health issues and put together an incredible season that landed him his first-ever Vezina Trophy finalist nomination.
He posted a 25-13-5 record with a 2.13 goals-against average,.930 save percentage and six shutouts in 46 games this past season.
His dream run ended after the Islanders got swept in a 5-2 loss to the Carolina Hurricanes in Game 4 last Friday.