LeBron James won't reveal what he said to Lonzo Ball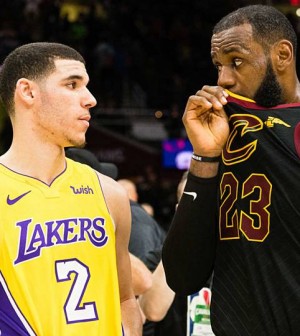 After the Cleveland Cavaliers beat the Los Angeles Lakers 121-112 on Thursday night, LeBron James approached Lonzo Ball and pulled his jersey over his mouth before engaging in an extended conversation with the rookie.
What could they possibly have been talking about? When asked about it post-game, James kept the content of the discussion a secret.
"None of y'all business" said James to reporters.
Speculation across social media suggests James was confessing to Ball that he will be joining him in Los Angeles when he becomes a free agent this offseason. James was also quick to shut down those ridiculous rumors.
"I see all the stupid noise that happens. I can't buy a place in L.A. I can't live in L.A. It's funny noise. But I don't get involved in it. When I post things, I don't look at comments. I'm so far removed from the white noise, and the noise, it doesn't matter."
James has averaged 28.1 points, 9.1 assists and 8.3 rebounds, and lead the Cavaliers to a 21-8 record in 29 games this season.