LeBron James surpasses Michael Jordan to move into 4th all-time on NBA scoring list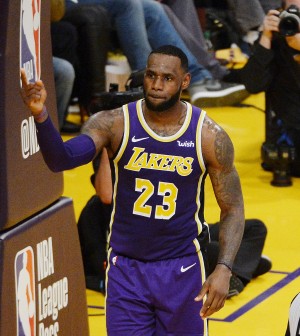 After posting 31 points in the Lakers' 115-99 loss to the Denver Nuggets on Wednesday, LeBron James surpassed the legendary Michael Jordan to move into fourth on the NBA all-time scoring list.
In an incredible career that has resulted in all sorts of accolades and milestones, James ranks this as one of his favourite moments to this point.
"I don't know, man, a lot of the stuff I've done in my career, this ranks right at the top…For a kid from Akron, Ohio, that needed inspiration, needed some type of positive influence, MJ was that guy for me." said James after the game.
"I wanted to be like MJ, wanted to shoot fadeaways like MJ, wanted to stick my tongue out on dunks like MJ, wanted to wear my sneakers like MJ. I wanted kids to look up to me at some point like MJ…It's crazy, to be honest. It's beyond crazy."
The 34-year-old Akron, Ohio native, who is currently playing in his sixteenth NBA season, has accumulated 32,311 points in 1190 career regular season games.
He has also won three NBA championships, three NBA Finals MVPs, four NBA MVP Awards (2009–2010, 2012–2013), and has been selected to 15 All-Star games during that span.
James now trails the great Kobe Bryant by 1332 points for third on the all-time scoring list.