Leafs make roster moves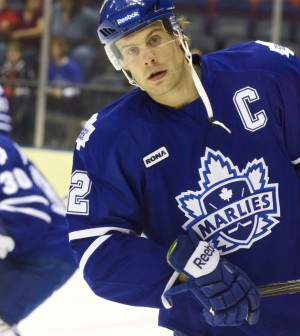 The Toronto Maple Leafs announce that defenceman Mike Komisarek has been assigned to the Toronto Marlies of the American Hockey League (AHL) and forward Ryan Hamilton has been recalled to the Maple Leafs. Komisarek will join the Marlies on the road in Chicago in time to play the Wolves Friday night at 8:30 p.m. (Eastern). The Maple Leafs will play in Buffalo this evening at 7 p.m.
Komisarek, 31, appeared in four games for the Maple Leafs in 2012-13. Hamilton, 27, played in one game for the Maple Leafs earlier this season (March 31 versus Washington) and two games in 2011-12. In 56 AHL games this season, the Marlies captain leads the club in goals (30), points (48), powerplay goals (7), shorthanded goals (3), shots (116), and shooting percentage (25.9%).
Hamilton was named Marlies captain on October 8, 2011 and earned Most Valuable Player honours by collecting a hat-trick for the Western Conference team in the 2013 American Hockey League All-Star Game on January 28.