Larry Nance Jr. happy to be heading home to Cleveland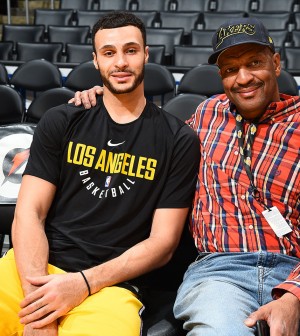 Lost in the midst of all the chaos on NBA trade deadline was the story of Larry Nance Jr. returning home.
The 25-year old, who is the son of former Cavaliers great Larry Nance, was born and raised in Akron, Ohio before following in his father's footsteps in becoming an NBA player.
After two-plus seasons with the Los Angeles Lakers, he was traded to his hometown Cleveland Cavaliers as part of a multi-player deal just hours before the trade deadline on Thursday. It's safe to say he was excited to be coming home.
"How cool is it for him to come home? The kid was in borderline tears when I called him today. He's ecstatic to be a part of it." said Cavaliers GM Koby Altman.
"He's going to be a core piece for us moving forward…Basketball IQ, athleticism, work ethic, a cultural piece we're excited about."
Nance Jr. is averaging a career-best 8.6 points and 6.8 rebounds in 42 games this season, and barring a major disaster, will likely be heading to the playoffs for the first time of his career. He was one of the four players that the Cavaliers acquired in separate deals on Thursday. His teammate Jordan Clarkson, Utah Jazz guard Rodney Hood, and  Sacramento Kings guard George Hill are the others that will join LeBron and company to close off the 2017/18 season.
The team is hoping will instigate a necessary culture change in the locker-room and lead to a change in fortune as they seek to make an appearance in the NBA finals for a fourth straight year.