Lakers Player Continues to Play While Serving Jail Sentence
By
Admin
on December 21, 2017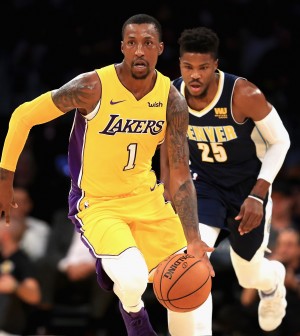 Earlier this year, Lakers guard Kentavious Caldwell-Pope was stopped by authorities who believed he was driving under the influence and was charged. This past summer he violated a probation order by not comply with the state's substance screening. As a result, Caldwell-Pope pleaded guilty and is now currently serving a 25-day jail sentence with a work-release program.
The program is allowing him to leave for games and practises but he cannot leave the state which consequently prevents him from playing away games. Caldwell-Pope later noted that he feels like he let his team down but missing some of his substance screenings was what resulted in his longer sentence. Following the incident, he signed an $18 million one year deal with the Lakers and was later suspended by the league itself for their own substance abuse policy.
The incident occurred while Caldwell-Pope was playing for the Detroit Pistons but the Lakers are forced to comply with the decision the court ruled over him. And if the player decides to evade any of the terms of the court agreement, he will land himself in jail under a three month sentence. Now Caldwell-Pope, under an $18 million contract, has been able to both participate in the games as well as serve his sentence.