Kyler Murray chooses NFL over MLB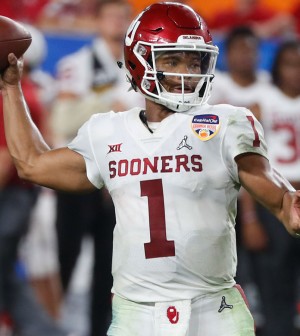 Dual sports star Kyler Murray finally made his decision on whether to pursue baseball or football on Monday. As expected, he couldn't pass up the rare opportunity of being a star quarterback in the NFL.
"I am firmly and fully committing my life and time to becoming an NFL quarterback." said Murray in a statement.
The 21-year old Texas native recently finished his fourth NCAA Football season and third as quarterback of the Oklahoma Sooners. he posted 216 pass completions for 4,361 passing yards, 42 touchdowns and seven interceptions in what turned out to be a Heismen Trophy season in 2018/19.
While putting up great numbers in football, Murray – who was selected ninth overall selection by the Oakland Athletics in the 2018 MLB draft, also played outfield for the Sooners baseball team this past season.
He was expected to report to Athletics Spring Training camp prior to his decision to commit to football.
Many experts anticipate Murray will be picked in the first round of the upcoming NFL Draft.