Kyle Rudolph isn't overly confident he will be returning to Vikings in 2019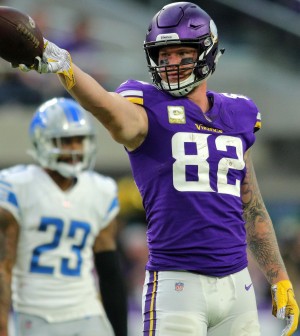 The Kyle Rudolph era might be coming to an end in Minnesota.
The Minnesota Vikings looking to shed some salary being up against the cap, it appears that they are ready to move on from some of their higher paid players. The Pro Bowl tight end might be the victim of the circumstances.
"We're in a tough situation as a team, you can't keep everybody, you can't pay everybody" said Rudolph.
"I certainly hope (i'm back)…This is where we want to be. This is where I want to finish my career"
The 29-year old, who was selected 43rd overall in the 2011 NFL Draft, has spent his entire 11-year professional career with the Vikings organization.
Rudolph has posted 386 receptions for 3787 yards, and 41 touchdowns in 112 career games. He also has Two Pro Bowl appearances and two Pro Bowl MVP's under his belt.