Kyle Lowry admits it took some time to come to terms with Raptors changes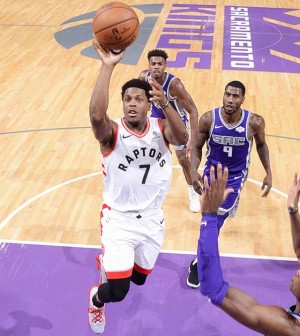 For the first time since, Toronto Raptors guard Kyle Lowry has decided to open up about the franchise's decision to trade his best friend DeMar DeRozan and fire head coach Dwane Casey in the offseason.
After ignoring media interview requests and giving short vague answers to reporters throughout the summer, he finally feels comfortable enough to speak up about the changes. In an interview with ESPN's Marc J. Spears, he admits it took him awhile to come to terms and accept the moves, but is now at peace with his situation.
"It took a little bit, but I had to make peace with it right away, because it's a business," said Lowry in his interview with Spears.
"If you take it personal, you're going to [expletive] yourself. You can't do that in this business. I never held on to it."
Lowry has clearly thrived with his new teammates. Through 12 games, he has averaged 17.8 points and 11.3 assists while leading the Raptors to a franchise-best 11-1 start to the season. He is also shooting a career-best 49.7% from the field.
The Raptors face Dwane Casey's Detroit Pistons for the first time when they make their trip to Scotiabank Arena next week. He won't get to face his BFF DeRozan until February 2019.