Kuzma calls out Lakers after embarrassing loss to Thunder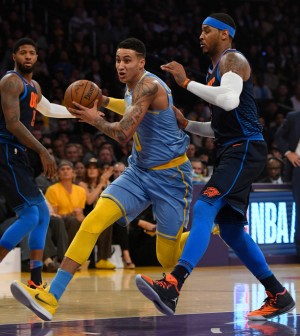 The Los Angeles Lakers were hoping to put an end to their seven-game losing streak at the Staples Center on Wednesday night, but the Oklahoma City Thunder had other plans.
Thanks to a combined 65 points by OKC's Big 3 (Westbrook, Anthony, George), and an incredible coming out performance by rookie Terrance Ferguson, the Lakers were unable to stop the bleeding and ended up getting blown out by an embarrassing score of 133-96 when all was said and done.
Lakers rookie Kyle Kuzma was not a happy camper following the loss, calling out his teammates for their lack of effort on the night.
"We gave up. You could see, they got basket after basket, we had no resistance on them on the defensive end and offensive end. When things got tough, we tried to do it individually, and you can't do that in this league." said Kuzma.
"They took a little lead, and we just went to being selfish on the floor. We didn't compete on defence. They killed us. … To lose by [nearly] 40, it is pretty embarrassing to be out there."
Kuzma, who is averaging 17.5 points and 6.4 rebounds in his rookie campaign, lead the team in scoring with 18 points on 7 of 14 shooting in the loss. It was the first time he shot 50% or higher from the field since the team's loss to the Golden State Warriors on December 22.
Lakers coach Luke Walton had a similar take on his team's performance.
"It felt a little bit like we gave in or we felt sorry for ourselves a little bit, which isn't who we are as a group. I am going to have to check the tape to see why we completely stopped competing out there." said Walton.
"Our fans deserve better than that, and our organization deserves better than that"
The Lakers will look to right the ship when they host the Charlotte Hornets tomorrow at 10:30pm/ET