Klay Thompson will consider joining Clippers if Warriors don't offer him a max contract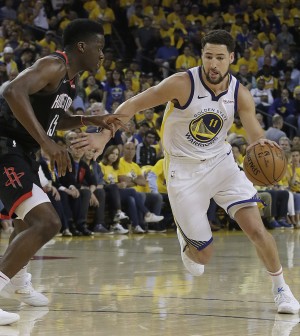 Kevin Durant may not be the only player the Golden State Warriors have to worry about keeping during free agency this offseason.
According to reports, All-Star shooting guard Klay Thompson will consider other options if the team fails to offer him a a five-year, $190 million max contract extension. One of the other teams on his mind? the Los Angeles Clippers.
The Clippers, who took the Warriors to six games in their hard-fought first round series last month, have enough cap space to sign multiple star players to max deals, a promising young core in tact, and one of the best head coaches in the league to entice Thompson via free agency.
The 29-year old, who was selected 11th overall in the 2011 NBA Draft, has averaged a combined 19.5 points on 45.9% field goal percentage and 41.9 three-point percentage, 3.5 rebounds and 2.3 assists in eight seasons and 615 regular season games with the franchise.
He is also three-time NBA champion (2015, 2017, 2018), five-time NBA All-Star (2015–2019), and has been selected to the All-NBA Third Team (2015, 2016) twice in his pro career.