Kevin Love undergoes arthroscopic knee surgery; out 6 weeks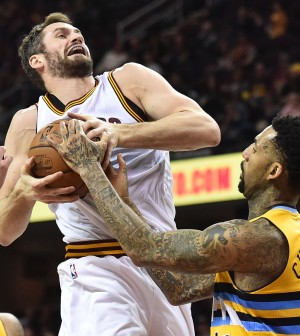 Bad news for the Cavs as they head into the final stretch of the season.
The Cleveland Cavaliers announced Tuesday that All-Star power forward Kevin Love will be sidelined for the next six weeks after undergoing arthroscopic surgery to repair damage in his left knee.
"Sucks" said teammate LeBron James after hearing the news.
"It's just our road every season. One of our key guys get hurt and this year has probably been the worst out of all years — having our starting 2-guard out for so long and now having our All-Star power forward out for an extended period of time…It's just next man up and we just hope for a healthy and speedy recovery for our All-Star."
The 28-year old was playing some of his best basketball since being being acquired by the Cavaliers in a blockbuster trade with the Minnesota Timberwolves in August 2014.
He is averaging 20 points and 11.1 rebounds in 46 games this season, and recently became an NBA All-Star for the fourth time in his career; his first in a Cavaliers uniform.