Kevin Love admits he thought he was going to die during panic attack last season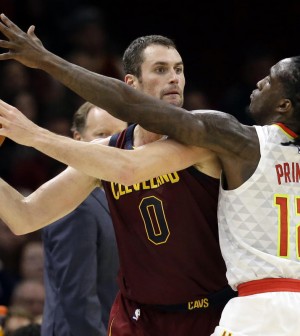 Cleveland Cavaliers star Kevin Love is revealing more about the panic attack he had during a game against the Atlanta Hawks last season on November 5th.
The 29-year old, left the game in third quarter after registering four points and four rebounds in 19 minutes, says he thought the panic attack at the time was life threatening.
"I had a moment where I thought I was going to die," said Love.
"I had never experienced something like that. I thought I was having a heart attack. Heart racing and I was running around looking for something that I couldn't find. I just wanted to get air. And so I ended up basically unconscious on the floor and putting my hand down my throat and trying to get something out of there, but there was nothing there."
In promoting mental health awareness, Love appeared along with San Antonio Spurs star DeMar DeRozan in a public service announcement back in April.
He signed a four-year, $120 million extension with the Cavs last month.