Kevin De Bruyne close to signing extension with Manchester City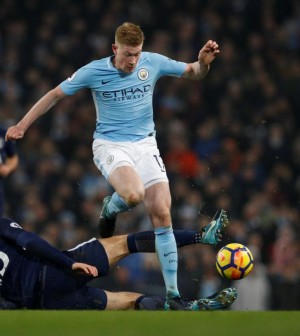 According to reports, Manchester City are on the verge of signing Belgian midfielder Kevin De Bruyne to a new lucrative deal.
The 26-year old, who is being paid £115,000 a week until 2021 under his current contract, could see his salary reach extreme levels on par with some of today's greats in the game today.
De Bruyne, who joined the club via transfer from Bundesliga's Wolfsburg in August 2015, has amassed 30 goals in 114 combined appearances in his tenure with 'The Citizens'. He has scored six goals, and has a team-best assists in 18 appearances so far in 2017/18.
"I always say in football that a lot of things can happen very quickly, but I'm very happy here and the people at the club know that," said De Bruyne.
"I've no feeling to go anywhere else and enjoy being part of the project here and playing the kind of football we are playing. The team is going in the right direction and that's also important. I made the right decision coming to City and my family feels the same so everything is good."