Kerber calls Andreescu "the biggest drama queen ever" after losing to her for second time in seven days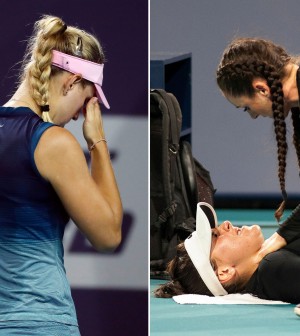 Veteran WTA star Angelique Kerber took being a sore loser to another level over the weekend.
Following the no.8 seed's 4-6, 6-4, 1-6 loss to Bianca Andreescu during third round action at the Miami Open on Sunday, Kerber approached the net to offer the Canadian teenager a lackadaisical handshake and proceeded to the utter the words "you're the biggest drama queen ever" at the Canadian teenager before walking off the court.
Kerber's struggles against Andreescu have not gone unnoticed. She had already lost to her at the Indian Wells final last week on March 17. The loss to Andreescu over the weekend was her second loss to the up-and-coming Canadian over a span of seven days. With that in mind, you can kind of understand where the salt and frustration stems from, even if it is the wrong way to behave as a professional tennis player.
Andreescu chose not to discuss the moment in her on-court interview following the win, and instead gave props to Kerber for a hard-fought match.
"It wasn't easy today," said Andreescu.
"Kerber played a really great match. But I think I took the momentum from the final into this match."
Andreescu will now face Estonian youngster Anett Kontaveit in the quarterfinals coming up today at 1230pm/ET.
She enters the day with a 10-match win-streak. Her last loss was against American Sofia Kenin during the semifinals at the Mexican Open in Acapulco on March 1.