Kenyon Martin calls out Jeremy Lin for hairstyle, Lin responds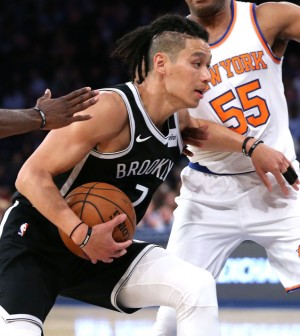 Former NBA power forward Kenyon Martin took to social media to call out Brooklyn Nets guard Jeremy Lin for his hairstyle on Thursday.
Within the rant, he accused Lin of 'cultural appropriation' for getting dreadlocks, a hairstyle that is often associated with the
"Do I need to remind this damn boy that his last name Lin?" Martin said in the video. "Like, come on man. Let's stop this, man, with these people, man. There is no way possible that he would have made it on one of our teams with that bulls— goin' on on his head. Come on man, somebody need to tell him, like, 'All right bro, we get it. You wanna be black.' Like, we get it. But the last name is Lin."
The 29-year old, who recently wrote an essay explaining the importance of his hairstyle for The Players Tribune, wasn't shy to respond to Martin's criticism.
"Hey man, it's all good. You definitely don't have to like my hair and [are] definitely entitled to your opinion," replied Lin.
"Actually I [am] legit grateful [for] you sharin it [to be honest]. At the end of the day, I appreciate that I have dreads and you have Chinese tattoos [because] I think its a sign of respect."
"And I think as minorities, the more that we appreciate each other's cultures, the more we influence mainstream society. Thanks for everything you did for the Nets and hoops…had your poster up on my wall growin up."
Since the response, Martin posted a second video on Instagram to further explain his point of view.