Kasperi Kapanen out indefinitely with a concussion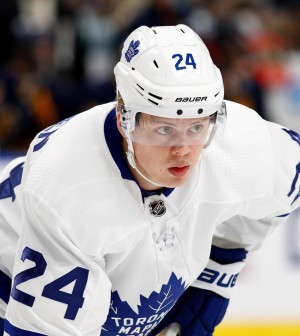 Less than a week after Nazem Kadri's return to the lineup, it appears that another Toronto Maple Leafs player will be sidelined for a while due to a concussion.
The team confirmed Wednesday that young winger Kasperi Kapanen will be out for an indefinite period of time after being officially diagnosed with a concussion following Monday's 6-2 loss to the Tampa Bay Lightning.
He joins defenceman Jaken Gardiner and Travis Dermott as prominent Leafs players that have been sidelined due to injury as of late.
It is not known when he sustained the injury, but it's possible that it occurred during the previous game at the end of their Western Canada road trip against the Edmonton Oilers on Saturday. He failed to record a point, and was a minus-1 on the night. He sat out Monday's game vs the Lightning due to precautionary reasons.
The recovery from a concussion is hard to predict, and can vary depending on the person and/or the severity of the diagnosis. If Kadri is any indication, expect him to miss approximately 8-10 games before making a return.
The 22-year old has compiled 19 goals, 23 assists and a plus-13 rating in 68 games this season.