Josh Gordon praises Tom Brady for helping him turn his career around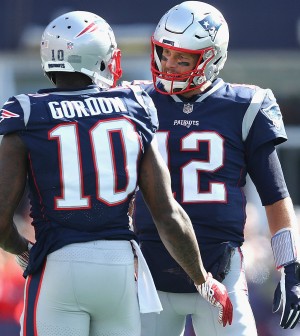 After struggling with substance abuse issues and going through various suspensions during his tenure with the Cleveland Browns, it was clear that receiver Josh Gordon could use a fresh start elsewhere.
When he was dealt to the New England Patriots in September, he had an opportunity to resurrect his career with the most stable organization in the league. So far, everything has gone as well as expected. He credits his new friendship with legendary QB Tom Brady as the reason for his new found success.
"It's good to be able to be in such close proximity to learn from him. I look up to the guy…He's done everything right, so I just enjoy the time being around him." said Gordon about Brady's influence on him.
"I came in with the idea he was a hard-working guy, and he's done nothing but shown that continuously and consistently…He's a family man, he loves his family, FaceTiming with his kids, which is something I can relate to with my family, my kids. He enjoys the game and everything that comes with it."
So far in 2018, Gordon has recorded 34 receptions for 605 yards, and three touchdowns in nine games. To emphasize the importance of those nine games, its more games than he's played than the previous four seasons combined (six).
With the New England Patriots comfortably in first place in the AFC East with a 9-3 record, the 27-year old will experience playoff football for the first time in his professional career.