Josh Donaldson responds to 'monster payday' rumours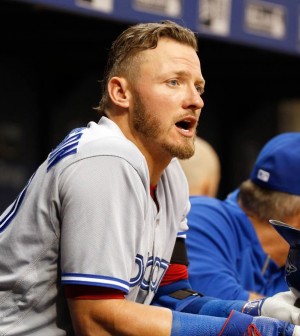 Jon Heyman of FanRag Sports recently wrote exclusively about the latest rumours surrounding Toronto Blue Jays 3B Josh Donaldson. According to his report, Donaldson:
"is believed to be seeking a monster payday, according to friends, and while he may not hit his goal (some think he may be shooting too high), he benefits from Manny Machado's move to shortstop since he'd become the top third base option if Machado stays at shortstop as a free agent."
Well, Donaldson himself read what Heyman had to say, and responded candidly to the rumours on his personal Twitter account.
"I respect what you do for a living, but you don't know my friends. Nor do my friends know what I want, because there is still information to be gathered. I havn't asked for anything. What I have said is I would like to stay." said Donaldson.
"I would listen to an offer, but I haven't had one to listen to so it's been pretty easy. Thanks for your concern about my future and next time I hope you put a name by it, because you are using my name in a manner I don't appreciate."
The 31-year old has hit .285 with 111 homers, 300 RBI and a .946 OPS in his past three seasons with the franchise. During that span, he was selected to two MLB All-Star games, and won two Silver Slugger Awards and the AL MVP award in 2015.
Donaldson, who will make $23 million in 2018, is slated to become an unrestricted free agent at the end of the season (unless he signs an extension beforehand).