Johnny Bower To Be Honoured At ACC Memorial Service
By
Admin
on January 3, 2018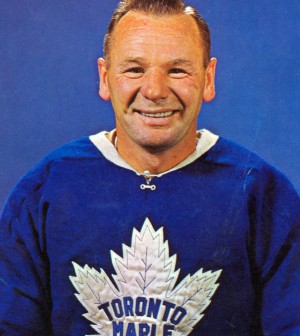 Former Toronto Maple Leafs goaltender Johnny Bower is set to be honoured by a number of hockey legends this afternoon at the Air Canada Centre. Johnny Bower III will speak about his grandfather's place in hockey history in addition to the president of the team, Brendan Shanahan, and former teammates Frank Mahovlich, Dave Keon, and Ron Ellis.
The memorial honours Bower who passed away of pneumonia back on boxing day. Retiring at the late age of 45, Bower was the goalie for eleven seasons and played during four of the team's Stanley Cup wins. Current Maple Leafs commented on Bower's legacy before yesterday's game, recognizing his active involvement in the franchise and the community following his retirement from the team. Even last year, Bower received a standing ovation from the crowed as he entered the scene of the Centennial game.
Yesterday's game Leafs game against the Tampa Bay Lightning also honoured Bower with a pregame ceremony and a video compilation highlighting his life and career with the team. The players even warmed up wearing Bower jerseys on the ice. The service will be open to fans, with family accommodating the floor seating as the celebration begins at 3pm.