A confident Joel Embiid believes the Sixers have enough talent to 'win it all'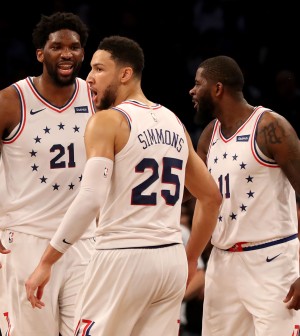 The Philadelphia 76ers may be considered underdogs heading into their second round series against the Toronto Raptors, but star centre Joel Embiid has faith in his team's ability to overcome the odds and make a deep playoff push.
He believes that the talent on the roster will give them the ability to win an NBA title this year.
"We think we can win it all" said Embiid.
"It's going to take a lot, there's some great teams in the league and we're about to play one of them. And the next one is going to be either Milwaukee or Boston and then you have the West. We just have to take it one game at a time but we have all the talent we need to win it all."
Embiid, who is in his third NBA season after missing the first two years of his pro career due to injury, averaged 24.8 points, 13.5 rebounds and 3.5 assists in four games during their first round series against the Brooklyn Nets.
The Raptors are also coming off an impressive first round performance where they won four straight in dominating fashion after losing Game 1 at home. It was the first time in franchise history that they eliminated a team in the playoffs in as little as five games.