Joe Thornton hasn't skated since knee surgery in January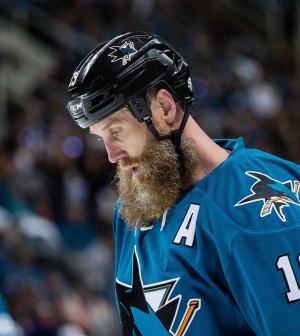 Don't get your hopes up San Jose Sharks fans, because Joe Thornton back any time soon.
According to the team, Thornton has yet to skate since undergoing knee surgery to repair his right MCL on January 25. It could be a while before putting on a pair of skates is even a possibility for the veteran forward.
"That's not even on my radar right now," said San Jose Sharks head coach Peter DeBoer.
"We've got our group and we're plowing forward. I'm not even thinking about that."
The best case scenario for the 38-year old is returning to action during the final week of the regular season.
He has posted 13 goals and 23 assists in 47 games this season.
The Sharks are second in the Pacific Division standings with a 36-23-9 record. If all goes as planned, the team will make the playoffs for the 12th time in 13 seasons.