Joe Flacco not expected to be back with Ravens next season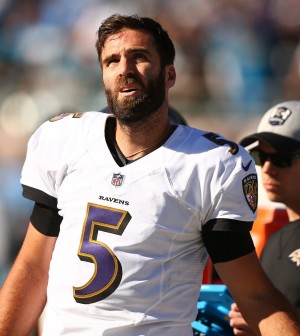 It could be the end of an era in Baltimore just around the corner.
According to reports, the Baltimore Ravens are ready to move on from veteran QB Joe Flacco and could possibly trade him to a team of his choice this offseason.
Rookie QB Lamar Jackson has flourished since Flacco sustained a hip injury during the team's 23-16 loss to the Pittsburgh Steelers in Week 9.
In his five starts with Flacco on the sidelines, Jackson has compiled a whopping 427 rushing yards on 86 rushes, 731 passing yards on 66 pass completions, six touchdowns and three interceptions. The team has also won four of five games in that span.
If a trade happens, Flacco will leave the organization as their all-time leader in many major offensive categories, including: passing yards, pass completions, passing touchdowns, regular season wins and playoff wins. He also led the franchise to their first-ever Super Bowl title and took home the Super Bowl MVP for his efforts in a 34-31 win over the San Francisco 49ers at Super Bowl XLVII in 2013.