Joe Fan: Bissonnette Is A Nasty Fellow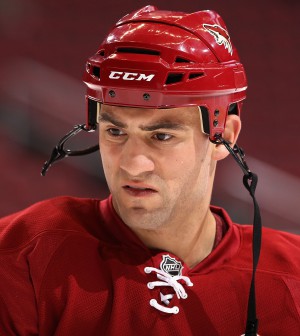 Now we know why Paul Bissonnette is known as Biz Nasty.
The robust Phoenix Coyotes' winger with the rather ribald commentary that has made him popular in the Twitter world found out from the National Hockey League that there is a price to pay for vigilante justice.
The NHL suspended Bissonnette 10 games on Monday for taking matters into his own hands by climbing over the boards to pummel Los Angeles Kings' Jordan Nolan in a pre-season game in Phoenix on Sunday. The incident followed a controversial hit by Nolan a few minutes earlier on Phoenix defenseman Radislav Klesla.
However, Bissonnette's agent has indicated his client is appealing the suspension. Mark Guy has indicated the NHL Players' Association has filed an appeal on behalf of Bissonnette. But Guy did not reveal the grounds for the appeal.
While Bissonnette was doing an honourable thing — at least in his mind — defending a teammate and the Coyotes' crest, he provided evidence of his role as a paid enforcer. Climbing the boards to fight is an automatic 10-game suspension. It will cost him $37,820.51 in salary if he loses his appeal. He is scheduled to return Oct. 24, which just happens to be against the Kings.
Mark that day on your fight calendar. If you think there is no such thing as staged fights, this will be put to the test. No doubt the NHL disciplinarian squad will be sending out a memo advising against a deliberate brawl. Then again, the NHL isn't really against fighting, is it? Wink wink.
The Coyotes and Kings already have a history of disliking each other. This only adds to it.
Klesla was taken off the ice by stretcher following the hit, but waved to the crowd to indicate he wasn't seriously hurt. He spent the night in hospital undergoing further evaluation. It was assessed as a concussion and he was later sent home.
Nolan received four minutes in penalties for his hit. And when he returned to the ice, Bissonnette was already in a mood to exact revenge. Nolan received a two-minute minor and a 10-minute misconduct for his part in the brouhaha, which by the way is the most interesting word to describe a brawl.
The NHL viewed videotape of the hit and decided it was an "open-ice body check" and Nolan did not break any rules because he did not leave his feet and didn't launch himself at Klesla or target his head. If anything, Bissonnette did the head hunting in what was clearly a pre-meditated, aggressive act that harkened back to the Broad Street Bully days popularized by the Philadelphia Flyers' in the '70s. It was nothing for a player back then to leave his team's bench or the penalty box to attack an opposing player. Bisonnette went back in time with what he did.
Had this happened in a true hockey market it might have been a big deal, perhaps even a case for the police to charge Bissonnette with assault. Phoenix is a false hockey market, but it has value as a TV market, hence the NHL has done everything it could to keep the Coyotes in the desert.
That it happened in the pre-season and not the regular season might have also lessened its coverage. Had this happened in the regular season it would have been viewed throughout the hockey world with great concern, but pre-season games really don't mean much. Many players who participate in the games are cut long before the season starts.
Bissonnette did not comment about the incident on his popular Twitter account. He is smart enough to engage the hockey community without antagonizing the NHL police squad.
Reaction in the Twitter world has been mixed. Some people are lauding him for defending a teammate, others are saying he should be booted out of the NHL. It makes for great discussion on a forum that Bissonnette regularly participates, except this time he refrained. Maybe he should have refrained from deliberately jumping an opposing player.
At least his teammates know he has their back — for whatever that is worth.