Jazz acquire Kyle Korver from Cavaliers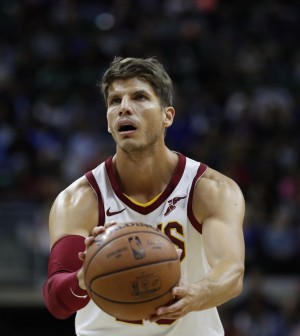 The Utah Jazz are bringing back a familiar face in hopes of solving their shooting issues.
The team announced Wednesday that they have acquired veteran shooting guard Kyle Korver from the Cleveland Cavaliers in exchange for guard Alec Burks, a 2020 second round pick and a 2021 second round pick via the Washington Wizards.
The 37-year old previously spent two-plus seasons with the Jazz organization from 2007-2010. During his 16 seasons in the NBA, Korver has 9.9 points with a 43.2 three-point percentage, 1.8 rebounds and 1.1 assists in 1120 games split between five teams.
He is getting paid $7.56 million this season and is on the books for $7.5 million with $3.44 million guaranteed for 2019/20.
Burks, 27, on a $11.53 million expiring contract that could make him a trade candidate yet again before the trade deadline passes in February. He is averaging 8.4 points and 1.6 rebounds in 17 games this season.