Jarret Stoll & Roman Hamrlik on Nitecap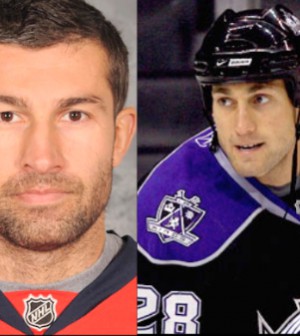 Tonight on Nitecap, Josh will discuss the latest in the NHL lockout with LA Kings forward Jarret Stoll at 10:05 EST and veteran defenceman Roman Hamrlik at 10:30pm EST. Dont miss it!
Jarret Lee Stoll (born June 24, 1982) is a Canadian professional ice hockey player currently playing for the Los Angeles Kings of the National Hockey League. Prior to joining the Kings, Stoll also played for the Edmonton Oilers, and the American Hockey League's Hamilton Bulldogs, and Edmonton Roadrunners, as well as the Kootenay Ice and Edmonton Ice in the Western Hockey League. Stoll has one Stanley Cup Championship, with Los Angeles Kings in 2012.
Roman Hamrlík (born April 12, 1974 in Zlín, Moravia, Czech Republic) is a Czech professional ice hockey defenceman currently playing for the Washington Capitals of the National Hockey League(NHL). The first overall pick in the 1992 NHL draft, Hamrlík is the active leader in NHL games played. He won gold medal with Czech Republic at 1998 Winter Olympic and also played also in the 2002 Winter Olympics, 1996 and 2004 World Cup of Hockey, 1994 and 2004 World Championships He has also participated in three NHL All-Star Games — 1996, 1999, 2003