Jackie Bradley Jr named ALCS MVP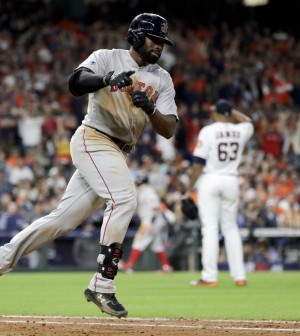 Jackie Bradley Jr's batting average may have not raised eyebrows, but when he did get hits, he made the most of it.
After the Red Sox clinched a World Series berth with a 4-1 victory over the Houston Astros in Game 5, the 28-year old outfielder was announced as the ALCS MVP.
He posted only three hits in 15 at-bats, but posted a .400 on-base percentage, .1067 OPS, two homers and 9 RBI in the series. His heroics included a bases-clearing double to give Boston the win in Game 2,  a grand slam in Game 3 to put the game out of reach, and a two-run homer in Game 4 that ended up being the difference in the contest.
"Speechless," said Bradley after being honoured with the award.
"It's amazing. I have amazing teammates, amazing staff. Everybody's such a blessing."