Isaiah Thomas says he will never talk to Danny Ainge again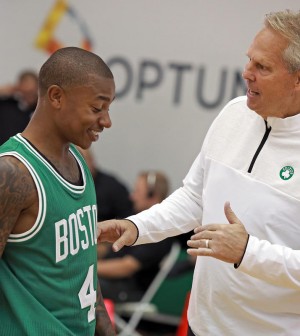 All-Star point guard Isaiah Thomas recently sat down with Sports Illustrated to reflect on the shocking trade that sent him packing to Cleveland earlier this offseason.
After taking some time to absorb it all, Thomas is clearly still bitter about how everything went down. He will always have love for the city that put him on the map, and the coaches that helped develop his game, but might not ever forgive those who decided to trade him, including Celtics president/GM Danny Ainge.
"Boston is going to be all love," said Thomas.
"I might not ever talk to Danny again. That might not happen. I'll talk to everybody else. But what he did, knowing everything I went through, you don't do that, bro. That's not right. I'm not saying eff you. But every team in this situation comes out a year or two later and says, 'We made a mistake.' That's what they'll say, too."
Despite finishing 3rd in scoring and overcoming the death of his sister to lead the Celtics to the Eastern Conference Finals, the 29-year old was dealt to the Cleveland Cavaliers in a multi-player trade that sent Kyrie Irving to Boston on August 22.
Thomas, who averaged 24.7 points and 6.0 assists in 179 combined games with Boston, is still trying to wrap his head around the Celtics decision as he prepares for a new season with a new team.
"None of it made any sense," added Thomas.
"It still doesn't make any sense. I'm still asking, 'What the hell happened?' It's a trade you make in NBA2K. It's not a trade you make in real life."
Thomas is currently undergoing a rehab plan for his injured hip, and isn't expected to make his Cavaliers debut until January 2018.
The Cavaliers will host the Celtics to open their 2017/18 season on October 17.