Impact Wrestling's Alberto El Patrón suspended indefinitely over domestic violence incident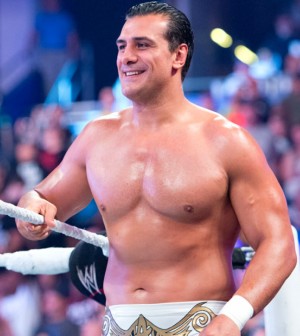 Impact Wrestling announced Wednesday that wrestler Alberto Del Rio aka Alberto El Patrón has been suspended indefinitely following an alleged domestic violence incident at the Orlando Police Department on July 9.
El Patrón, whose real name is José Alberto Rodríguez and previously fought under the name Alberto Del Rio during his time in the WWE, reportedly got into an argument with his WWE superstar fiance 'Paige' (Saraya-Jade Bevis) and chased her around the airport while concerned onlookers watched. The cops were eventually called and quickly arrived on the scene.
According to a witness, Del Rio "reeked" of alcohol, and heard Paige call him "abusive" and claimed he was "doing coke for two-days straight" during the argument.
Paige recently took to Twitter to deny the rumors, saying she and her husband were actually the ones to call the police after a fan threw a drink at Rodríguez after she asked for a photo.
So far no arrests have been made.
"There was an incident at Orlando International Airport at about 3 p.m. Sunday involving (DOB 5/25/1977). The reported incident was a domestic violence battery, and it is still under investigation. No arrests have been made as of this time, but the case remains open. That is all the information we have for release at this time." said the Orlando Police Department in a statement.