Hurricanes undecided on whether they will deal Michael Ferland at Trade Deadline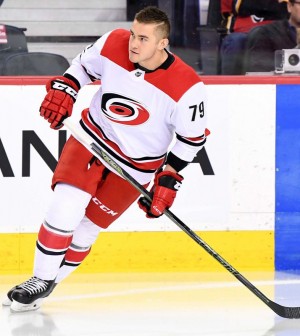 With six wins and just three regulation losses in their past 10 games, the Carolina Hurricanes find themselves just three points back of the final wildcard spot in the Eastern Conference. Despite a chance to put an end of their nine year playoff drought, they have some tough decisions to make.
Should they go for broke and make their fans happy, or play it conservative and get some assets in return for pending free agents that they might not be able to afford in the offseason: including veteran forward Michael Ferland. With the February 25th Trade Deadline fast approaching, they realize they have to decide whether to rid themselves of Ferland in the coming days.
"I've said maybe that's our rental piece if things are going well. We know we may not be able to sign him, but if we trade him we have to go out and find a piece." said Hurricanes GM Don Waddell on Monday.
"I would say we're talking to a lot of people, a lot of teams. But I've told everybody we'll get through the road trip and see where things are."
The 26-year old, who was acquired alongside defenceman Dougie Hamilton in a multiplayer trade with the Calgary Flames last summer, has posted 14 goals, 14 assists and a plus-9 rating in 47 games this season.
The Hurricanes conclude their five-game road trip vs the Ottawa Senators on Tuesday night before returning home for three games vs Oilers, Stars and Rangers.