Hedman likely to sit out remaining regular season games with upper body injury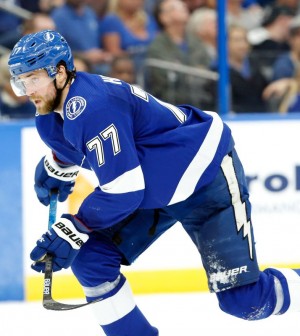 The Tampa Bay Lightning will save Victor Hedman for the playoffs.
According to reports, the team is expected to keep All-Star defenceman Victor Hedman out of the lineup for the final three games of their regular seasons due to an unspecified upper body injury. He already sat out during the team's 5-2 win against the Ottawa Senators on Monday night.
Despite becoming the third team in history to win 6o games in a single season, and having nothing to play for until the playoffs, Lightning head coach Jon Cooper refuses to take anything for granted and realizes the impact of losing Hedman to injury regardless of the team's on-ice success.
"He runs our power play unit, he's a driving force in our 5-on-5 play, and he plays on the penalty kill, so it's one of those things that you can throw every cliche in the book of 'next guy up' or 'spread the minutes around,' but it's a big loss for us. As I said, it's all about getting to the playoffs at this point and making sure we stay healthy, and if we can make sure [Hedman] is at that point, we'll be OK" said Cooper.
The 28-year old defenceman, who won the Norris Trophy last season, has posted 12 goals, 42 assists and a plus-24 rating in 70 games in 2018/19.