Golden Knights officially promote Kelly McCrimmon to general manager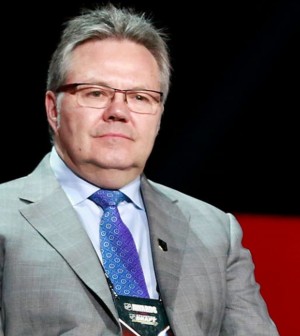 Well it's official.
By drawing outside interest, Kelly McCrimmon was able to secure himself a bigger role within the Golden Knights organization.
The team confirmed Thursday that they have promoted assistant GM Kelly McCrimmon to the general manager role while keeping previous GM George McPhee on as the President of Hockey Operations. The switch in roles will officially begin on June 1st.
"What was important for me was that there were no disruptions to our staff" said McPhee about the promotion.
"I thought it was the right thing to do for the Vegas Golden Knights. I thought it was the right thing to do for Kelly McCrimmon. I thought it was the right thing to do for me because Kelly and I are both going to grow more because of this. He's going to grow more in his role. I've done this for 20 years. I can be really supportive of him, but I wouldn't mind getting out to some tournaments and scouting some players. It wasn't a difficult decision. It was the right thing to do. I'm really proud to do this. It feels good. Kelly's going to be terrific at it. We just keep rolling along here."
The 58-year old has been with the Golden Knights since leaving his longtime role as General Manager of the WHL's Brandon Wheat Kings for a chance with the league's newest team in 2016.