Froome Withdraws From Tour De France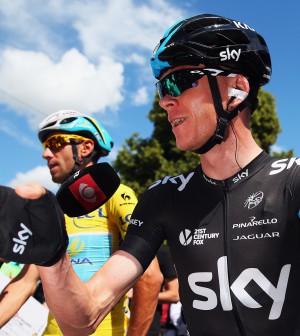 Defending champion Christopher Froome was forced to withdraw from this year's Tour De France after sustaining an injury during stage 5 of the event on Wednesday.
Froome, 29, fell hard to the pavement and appeared to be grimacing in pain from his injured left wrist after picking himself off the ground. He immediately consulted Team Sky doctors and hopped into the team car after deciding it wasn't worth the risk to continue racing.
The fall was his second in as many days. He initially injured his left wrist, sliced skin off his left thigh and bruised his shoulder, knee and elbow after a crash during stage four on Tuesday.
He entered the day in seventh place, and was two seconds behind leader Vincenzo Nibali before abandoning the race.