Former NHL player Nathan Oystrick named Humboldt Broncos new head coach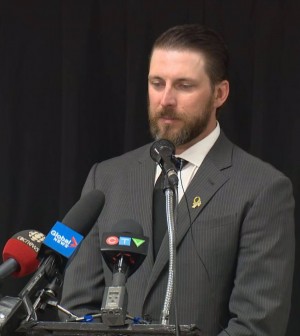 The team announced Tuesday that former NHL defenceman Nathan Oystrick will fill the vacancy left by Darcy Haugan, who was among 16 killed when the team's bus and a semi-truck collided at a rural intersection in April. Thirteen others were injured in the crash.
Oystrick, 35, is taking on a job with few precedents: He's the Humboldt Broncos' new coach and general manager, replacing the much-loved Darcy Haugan,
"I understand how much the Broncos have always meant to the community of Humboldt but I also understand what the team has come to mean to so many people across North America and beyond," Oystrick said Tuesday in a prepared statement.
"I want to make the Humboldt Broncos organization and the community proud of not only me but of our team."
"Anytime you hire a new coach, there's pressure," says Oystrick, whose team opens training camp Aug. 24. "I put pressure on myself to do well. I want to succeed at everything I do, so when Kevin and the board offered me the position, the preparation started right then. I'm committed, I want to be here, I want to learn. I want to make the Humboldt Broncos organization and the community proud of not only me but of our team. It's a work in progress, and I'm going to have a lot of work to do, obviously, still. That work won't ever stop."
"If I've learned anything in my playing career, it's that the biggest thing that hockey does for anyone is to build relationships, whether it's in your community, your teammates, your coaches — it doesn't matter."