Flames are no longer pursuing new arena in Calgary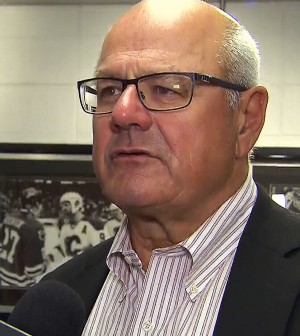 The future is uncertain with the Calgary Flames.
Team president and CEO Ken King announced on Tuesday that talks with the city haven't gone as planned and that they will no longer pursue the possibility of building a new arena in the city of Calgary.
"We've been working for a long time trying to come up with a formula that really works to replace this building and we really put our best foot forward and I've come to the conclusion sadly and I'm very disappointed that I don't think we can make a deal that works for us," said King.
"I think the city's come to the same conclusion, I don't think they can make a deal that works for them."
The Flames have been playing at the Scotiabank Saddledome since 1983, which now makes it the second oldest arena in the league next to the Madison Square Garden in New York.
NHL commissioner Gary Bettman was less than thrilled about the updated progress on the new arena deal. He didn't get into specific, but offered a very cryptic message about the whole ordeal.
"Without a new building there will be consequences," said commissioner Gary Bettman.
"Negotiations are over. They'll play out the string here as long as they can."