Fighting In Hockey Is Up, And It Has To Stop!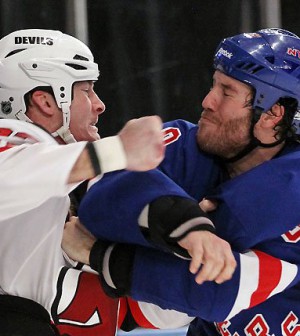 Today alone, partly because of my tweets and partly because of my comments recently on The York Report at NSS (8 to 10 p.m. ET weeknights), I've received almost a dozen emails, texts and tweets suggesting that I am a wimp, suck or a pussy.
The reason for this, presumably, is that I have begun once again to get on my soapbox and express dismay and even ire at the fact that violence in the National Hockey League is increasing.  Cheap shots, dirty hits and, yep, fights.
I'm pissed about this for a variety of reasons, not the least of which is that I don't want my kids trying to emulate these barbarians on the ice when they play hockey.  It transcends that. Violence, I've always believed, is uncivil and, more importantly, downright illegal.
If we all wanted to punch someone we didn't care for, we'd probably do it. But the law prevents us from acting like animals, doesn't it?
So why does it happen — on an increasing basis, I might add — in the freaking NHL?
Here's what blogging star Ryan Dadoun wrote today at prohockeytalk.com (NBC Sports):
"If you feel like players have been dropping the gloves a lot more this season; you're right. Through Feb. 25, there have been 0.55 fights per game, which is up from 0.44 in 2011-12, according to ESPN The Magazine. To look at it another way, if picked a game at random and watched it all the way through, there would be a 41.4% that you'd see a scrap. That's the highest it's been since 2001-02. San Jose Sharks forward Ryane Clowe, who has 70 penalty minutes in 20 games this season, thinks this spike in aggression can be traced back in the lockout.
'After the first few games, when players were getting their stamina back, the games got tight and physical,'he said. "You're so energized and hyped up to be playing again.'
"Fighting tends to decline towards the end of the season, but it's hard to gauge if the shortened campaign will be any different.
'When you get to the last 10 games of the season, discipline becomes paramount," said Dallas Stars coach Glen Gulutzan.' But you'll still see fights if there are races down the stretch and teams are looking for any edge.'
"With the season only lasting 48 games, there isn't as much time for teams to separate themselves from the pack, and that might lead to a very tight race between a lot of teams for playoff spots until the very last day."
Some questions I have about this:
WTF?
What is Gulutzan talking about? How does fighting give a hockey team an edge? Is the idea to put more pucks into the net to win?
And is the kind of fighting that goes on in the NHL even legal?
Watch The York Report at 8-10 ET today or tomorrow to get an idea. One of my guests, I think, will be renowned sports lawyer Eric Macramalla. He's outstanding. I'll ask him point blank.
And if you would like to read the greatest columns EVER written on hockey fighting, check out these two:
http://www1.fantrax.com/newsColumn.go?preview=1&id=5pacwxfwgs5lqknv
http://www1.fantrax.com/newsColumn.go?preview=1&id=afj6vzwtgkev8gpo
Some of you may wish to call the writer of these two columns, I.J. Schecter, a wimp, suck and/or pussy. I have a hunch, though, that more of you will agree with him than not.