Evgeni Malkin suspended one game for dangerous high stick on Michael Raffl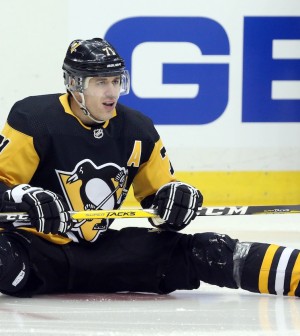 The NHL has made a decision on Evgeni Malkin's punishment.
The league announced Wednesday that they have suspended the Pittsburgh Penguins star one game for his wreckless high stick on winger Michael Raffl during the Penguins' 4-1 win over the Philadelphia Flyers on February 11.
The incident occurred in the third period when both players were tangled up battling for the puck in the neutral zone. During the carnage, Malkin expressed frustration and swung his stick in the air. Luckily, the stick made minimal contact with Raffl and did not cause a serious injury. Malkin was assessed a 10-minute match penalty after the altercation.
Prior to the suspension announcement, Malkin explained why he felt the incident was blown out of proportion.
"I'm not trying to hit his face…I know it's dirty, but I missed, my stick did not touch his helmet or shoulder" said Malkin.
"He just like dived and the referee give me five minutes. Nothing like dangerous, (he's) not bleeding, nothing. I know I gave them a five-minute power play, but it's my fault for sure. Play smart next time."
The 32-year old has posted 14 goals, 42 assists and a career-worst minus-17 rating over a span of 51 games so far in his 13th season with the Penguins.