Evgeni Malkin out week-to-week with upper body injury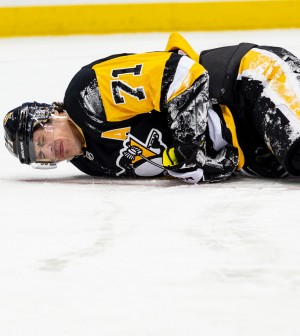 The Pittsburgh Penguins are going to have to continue their push for playoff positioning in the Eastern Conference and Metropolitan Division without one of their key players for quite some time.
The team confirmed that All-Star forward Evgeni Malkin will be sidelined week-to-week after suffering an undisclosed upper body injury.
The 32-year old Russian, who did not play in Sunday's 2-1 loss to the Philadelphia Flyers, sustained the injury when he took a cross-check to the torso courtesy of Robert Bortuzzo midway through the first period of the team's 5-1 loss to the St.Louis Blues on Saturday. He had to be helped off the ice by a trainer, but did eventually return and played the remainder of the contest.
Malkin has posted 21 goals, 50 assists and a minus-24 rating in 66 games this season.
The Penguins are currently third place in the Metropolitan Division with a 39-24-10 record with nine games remaining on their regular season schedule.