Eskimos QB Mike Reilly wins CFL's Most Outstanding Player Award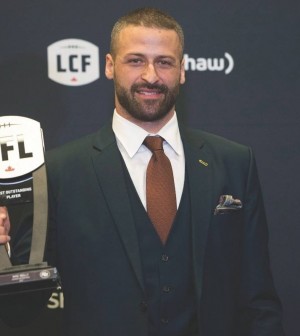 For the first time in his CFL career, Mike Reilly can call himself an MVP.
The 32-year old Edmonton Eskimos quarterback was officially named the CFL's Most Outstanding Player for the 2017 season on Thursday.
In 18 games, Reilly completed 447 of 654 pass attempts for a league-leading 5,830 yards, and finished tied with Ottawa Redblacks QB Trevor Harris for 30 touchdowns.
Despite taking home the hardware, Reilly admits it doesn't feel as satisfying as it should be due to his team's failure to reach the Grey Cup.
"I pictured this with 80 players who were responsible for me being on this stage…In 2015, I wasn't on this stage but I was standing on the stage that mattered (receiving Grey Cup trophy)." said Reilly.
"To the Calgary Stampeders and Toronto Argonauts, you guys have the chance to be on the stage together and that's what we play for. My biggest regret is not having my guys here with me."