Eric Reid isn't going to let his coach or anyone stop him from kneeling during anthem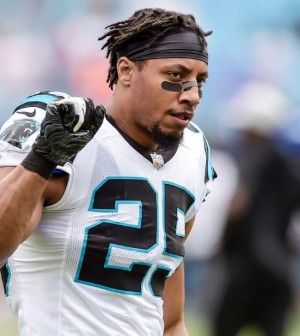 Carolina Panthers safety Eric Reid will not let peer pressure get to him. Despite remaining unsigned for longer than he anticipated this offseason, he has decided not to hold back from expressing his political beliefs.
Reid wants to make it clear: he will continue the tradition of kneeling prior to the national anthem, with or without the blessing of his head coach Ron Rivera.
"Very respectfully, he doesn't have a choice…He's entitled to his opinion, but I know what my rights are." said Reid about whether Rivera's opinion will have an impact on whether he continues to kneel during the anthem.
"His family was a military family much like many of my people were in the military. My cousin just got back from Afghanistan. My mom was in the armed services. My uncle was enlisted. The list goes on. But when they get home they're still black in America. They're going to fight the same wars when they get home and still face the same things I'm talking about. So I get encouragement from my family that served in the armed forces because they agree with what I'm saying."
The former Pro Bowler signed with the Panthers on September 27. Since then, the team has gone 3-1 and moved into second place in the NFC South. During that span, he has recorded 24 combined tackles and a sack in four games.